How I made my router and my Xbox One like each other
Recently I moved house, and one of the first things that were switched on and installed were my console and my internet router. Two weeks ago, I wanted to play Minecraft with a friend, but sadly the new router and the Xbox One weren't very cooperative.
I tried narrowing down the issue. Standard solutions, like opening all of the ports listed in the official Xbox Support page, or enabling UPnP, didn't do the trick. It seemed that the Xbox had a problem dealing with IPv6.
When testing the multiplayer connection, I got an error message:Cannot connect to Teredo IP Address
Teredo tunneling gives full IPv6 connectivity for IPv6-capable hosts that are on the IPv4 network, and have no native connection to an IPv6 network. Which was weird, because both my console and my network are IPv6-capable. It seems to be a known issue that the Xbox assumes the communication is going to be tunneled, without testing if there is even the need for it. If Teredo-tunneling is not possible, there is no way to play in multiplayer.
My router (Fritzbox 7360) blocks Teredo by default. So in order to enable that, I switched from View: Standard to View: Extended(which almost deserves a blogpost on it's own, because the FritzOS UI is horrificly bad)

](http://pumpingco.de/content/images/2015/10/erweitert.jpg)
Under the section Internet there is an option for FilterandLists. So all I had to do is to remove the check next to – "Teredo Filter active".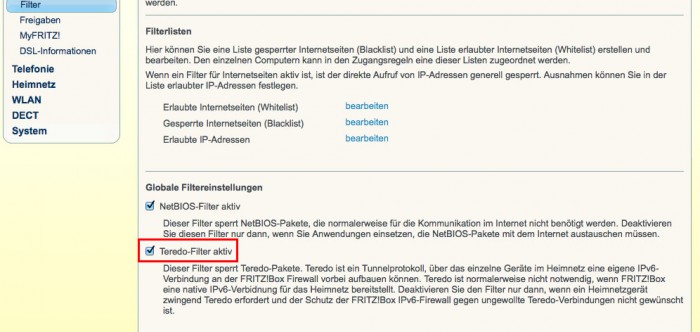 (It's important to say that communication using Teredo is a security risk, and I personally don't understand why Xbox uses it as a standard for all IPv6 networks)
This did the trick. Fun times were had!